Tatiana Zavedii came to Finland four years ago to study at the University of Oulu. For the past two years, she has been working as a marketing strategist at a local company. Unfortunately, with the changes brought by the COVID-19 pandemic, Tatiana lost her regular job and had to find a new employer who offered her a freelance contract. Tatiana agreed and registered her freelance activities through the services of light entrepreneurship company – Ukko, which would take care of her bookkeeping, taxation, and pension insurance.
Tatiana contacted me with an urgent case regarding her residence permit. Since she is a citizen of Russia, with her studies coming to an end she had to extend her residence permit. While being still a regular employee at the first company Tatiana applied for a residence permit based on a degree completed in Finland. After the changes in her employment situation, Tatiana replaced the previous contract with a new freelance contract in the residence permit application.
Soon after, she received a notification from Migri, saying that they could not continue processing Tatiana's application with the following explanation:
"…working as a freelancer, you cannot be granted a residence permit for a person with a degree completed in Finland. The right grounds for a residence permit in your situation is entrepreneurship."
Tatiana was given the option of changing her application type by providing documents needed for the residence permit based on the entrepreneurship with a two-week deadline.
Right after this happened, Tatiana has contacted Uusyrityskeskus for help with company registration and application. The residence permit for an entrepreneur has few requirements that we had to meet in eight working days:
Tatiana had to be an entrepreneur in one of the following forms: a private trader; a partner in a partnership; a member of a cooperative; or an entrepreneur in an LLC.
Tatiana had to have a registered company in the Trade Register – meaning she had to have her business ID (Fin. 'Y-tunnus').
Tatiana had to show that her business is profitable – meaning she had to prepare her business plan and financial calculations.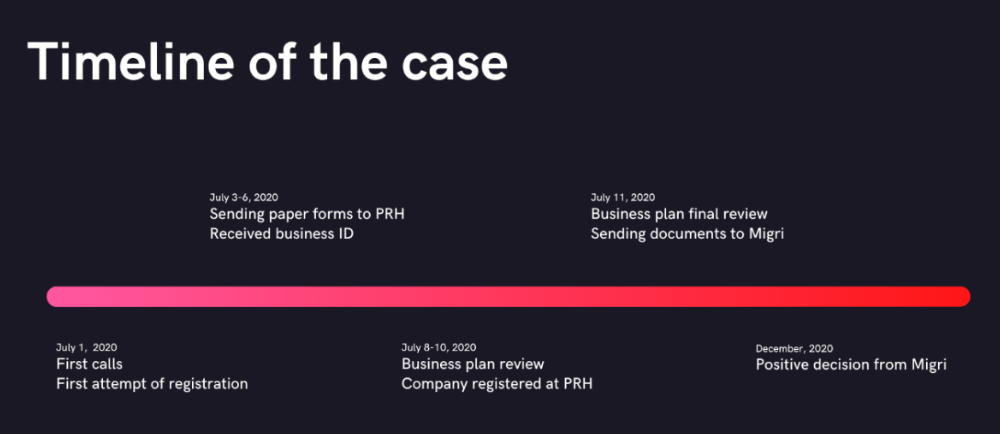 The first attempt of registration
During our first call, I asked Tatiana about her address status and whether she had a Finnish bank account to determine what would be our action plan. The good news was that Tatiana has been living in Finland for a few years now and she has a permanent address here. This meant that she was legible to register a company in Finland. The 'not so good' news was that she only had the limited version of a Finnish bank account. This meant she cannot use the service of online banking identification, which would guarantee us a fast registration.
As I mentioned in my previous case, in Finland, often the easiest way to use any public services like TE-office, Tax Administration, Post, and others, is online by verifying your identity with a Finnish bank account. Of course, you may also apply with paper forms, but usually, they are more expensive and take a longer time to process.
In an ideal scenario, I would advise Tatiana to apply for a Finnish ID card, open a full-version of a bank account, and then register her company online, which would be cheap and easy. However, applying for a Finnish ID card and the processing of the application would take about one month. We had only eight days, so we had to go another way.
The first option for Tatiana was to stay as a light entrepreneur, but instead of using the services of Ukko, shift to OP-kevytyrittäjä. With them, she would have had the same comfortable bookkeeping services for a 5% of income fee, while owning her own Private Trader company (Fin. 'tominimi') with her own Business ID (Fin. 'Y-tunnus'). Tatiana has made an attempt of registering online through their services, however, she ran into the same problem of not being able to confirm her identity with the limited bank account version.
This meant that we had to go with plan B and register her company by sending the paper forms to the Trade Register in Helsinki.
Registration with paper forms
The same day later we had a second call, to go through the paper forms for registration of a Private Trader (Fin. 'tominimi') at the Trade Register. The main difference between registering a company online and in the paper is that the latter is more expensive (115 euros instead of 60), and the processing time usually takes longer. The business ID is usually given to a company right when the application has been entered into the system, but the company may still have an 'unregistered' status from 9 up to 20+ working days.
It is good to know, however, that you may request fast processing of your application if you have a valid reason. This can be done by ticking a box on the first page of the registration form (Y3 for Private Traders) and attaching an explanatory letter to your application.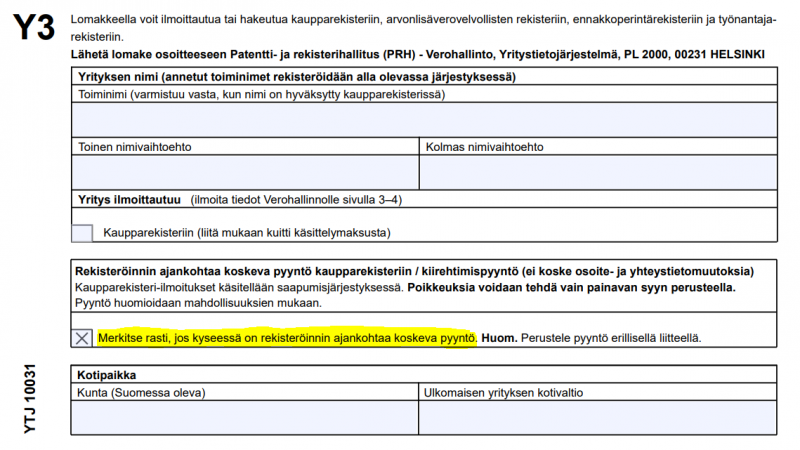 In Tatiana's case, there was a clear need and valid reason for fast processing. So I advised her to do that and attached a request for fast processing on behalf of her new employer, explaining that a slow registration process might have a negative impact on their business operations.
The next day Tatiana made a prepayment for the registration of a Private Trader in a sum of 115 euros and sent her documents with the express services of Posti. Her envelop included:
Receipt of payment
Form Y3 with a ticked box for fast processing
Personal data form
Request for fast processing
Copy of her passport.
In addition, Tatiana sent an email to the customer support of the PRH explaining her situation and requesting the possibility of fast processing.
Four days later Tatiana received her Business ID and four days after that her company was registered.
Business plan and financial calculations
Right, when Tatiana sent her documents to Helsinki, we started working on the documents needed for the residence permit change: business plan and financial calculations that would be partly review by the Center for Economic Development, Transport, and the Environment, Ely-center, during the residence permit application processing.
In the case of Tatiana being a freelancer, there was no need to prove whether her business model is profitable. She already had a freelance contract with a Finnish company for the first year, paying her a salary monthly. However, we had to still show that she is aware of the costs and risks of being an entrepreneur and she will be having a client acquisition strategy after the first contract ends.
By the time when Tatiana's company received the business ID, she had the first version of the business plan ready. Within a few next calls we have made few changes to finalize it:
Added a few sections to the structure and changed the order of how the information was presented
Elaborated on her business environment slide by including Tatiana's competitive advantages over other competitors in the field, mentioning the existing client contract, etc.
Providing more details on her marketing and sales.
We also made yearly financial calculations, where included costs of a new bookkeeper, pension insurance fee (YEL), and a fee for membership at the entrepreneurs' unemployment fund (Fin. 'Suomen yrittäjäkassa' SYT).
Residence permit decision
A few days before the given deadline, Tatiana sent her business plan and financial calculations along with the business ID of her newly registered company to Migri.
Five months later, Tatiana received her residence permit for 1 year on the grounds of being an entrepreneur in Finland. At the moment she is operating as a Private Trader based on a one-year freelance contract with her current employer.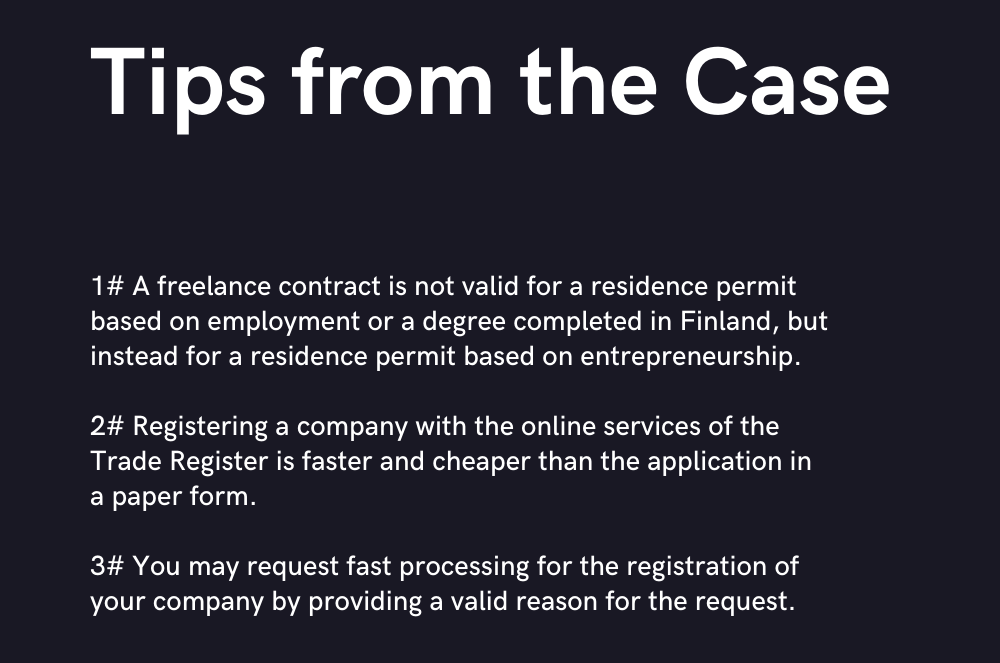 If you need help with starting your business in Finland, contact me at viera.karam@uusyrityskeskus.fi
Kind regards,
Viera
As a business advisor at Oulun Seudun Uusyrityskeskus and BusinessOulu, I help international people of Oulu with early-stage business planning taking them step-by-step from an idea to the registration of the company. My clients often have interesting and complex cases that not only include the development of a business idea, but also questions of residence permits, licenses, taxation, and others. In this article, I will go over the case with one of my clients, while giving tips for those of you interested in starting a business here in Finland.
Disclaimer: All of our consultations are free and confidential. Every case I go over was allowed to publish by the client and has been approved beforehand.