The first time I met Ojuolape Akinwunmi was when she was interviewing for the Business Program organized by the Oulu team of Startup Refugees in collaboration with BusinessOulu and Oulun seudun Uusyrityskeskus. The program was created for international people interested in business and consisted of three main blocks: workshops on topics related to the basics of business; mentoring with local entrepreneurs; and market validation where we supported our students with testing their idea. In addition to that, I and my co-organizer from the Startup Refugees side, Pietu Niinimäki, have been regularly supporting our students with one-on-one sessions when needed.
Oju enrolled in the program and started attending our workshops while I was responsible for supporting her progress. Throughout the program, we worked on:
1. Improving Oju's business planning by accomplishing business program assignments.
2. Creating a unified visual brand.
3. Developing a prize-winning presentation for graduation from the business program!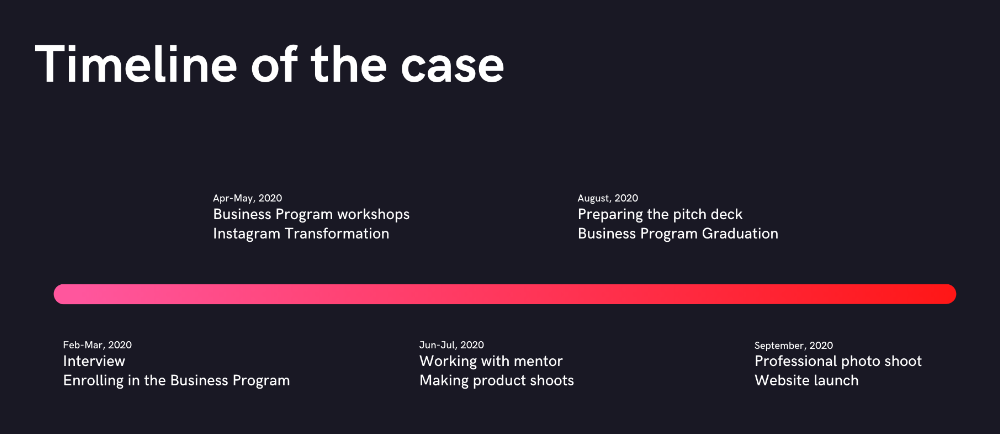 Business Program
Among many other assignments, Oju and I worked on her customer survey, better defining her customer segments, and creating fake ads for her business. We also took the time to work on Oju's financial calculations, making sure that the prices of her products allow her to cover her costs and not scare away her clients.
A big part of Oju's work was also dedicated to analyzing brands in a similar niche, who were selling clothing with African designs in the European market. A big contribution to the development had a local mentor with whom we matched Oju. With her help, Oju managed to better adjust her designs according to the tastes of Finnish customers and yet keep the bright and warm patterns, which is a big part of African heritage.
Transforming Instagram
Apart from the support with the assignments Oju was willing to set up a website. However, taking into account that many of her current sales were taking happening through Instagram I suggested that we first work on the content for her Instagram. As, in some way, it was a mini version of her future website. At the beginning of our work, the Instagram profile of her business looked more like a personal account. Oju did not have a logo and a color palette representing her brand. In addition, there was no defined structure to her posts on feed or stories.
Our first step was to choose a color palette that Oju's followers could recognize. The colors needed to be bright and warm. Based on the chosen colors, Oju had to prioritize when posting to her feed, in order to create unity among her visual content.
These are also the colors that we used to make a simple logo that Oju could use at the early stage of marketing before hiring a professional graphic designer. Having a logo is especially important when creating a unity along all of the selling channels: Instagram, Facebook, and Website. You can make a simple logo yourself using the free services of Canva.
Then we worked with content. We have defined what should go to feed (pictures with Oju's products and announcements) and the content that should go to stories (behind the scenes, customer reviews, and pictures, etc). In addition, we categorized the stories' highlights and created colorful covers according to the chosen color palette.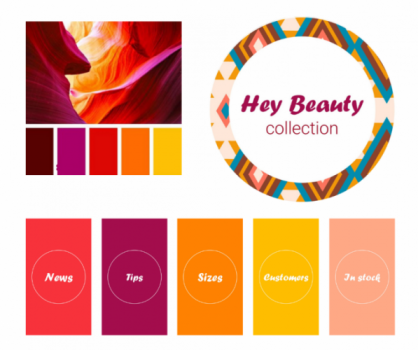 Product shoots
Our next step was to work with content. We needed to take pictures of Oju's new arrivals so that she could start posting and informing her customers. The older pictures posted in the feed lacked a little bit of consistency, good lights, and bright colors that would reflect the brand mood.
What we have done for the first photoshoot was to find a space with good natural light. In our case, we used the premises of BusinessAsema and asked the Startup Refugees team member to help us take professional pictures. In addition, we analyzed pictures posted on Instagram pages of other fashion brands, prepared a plan of the photoshoot, and brought decor to add to the composition of the pictures.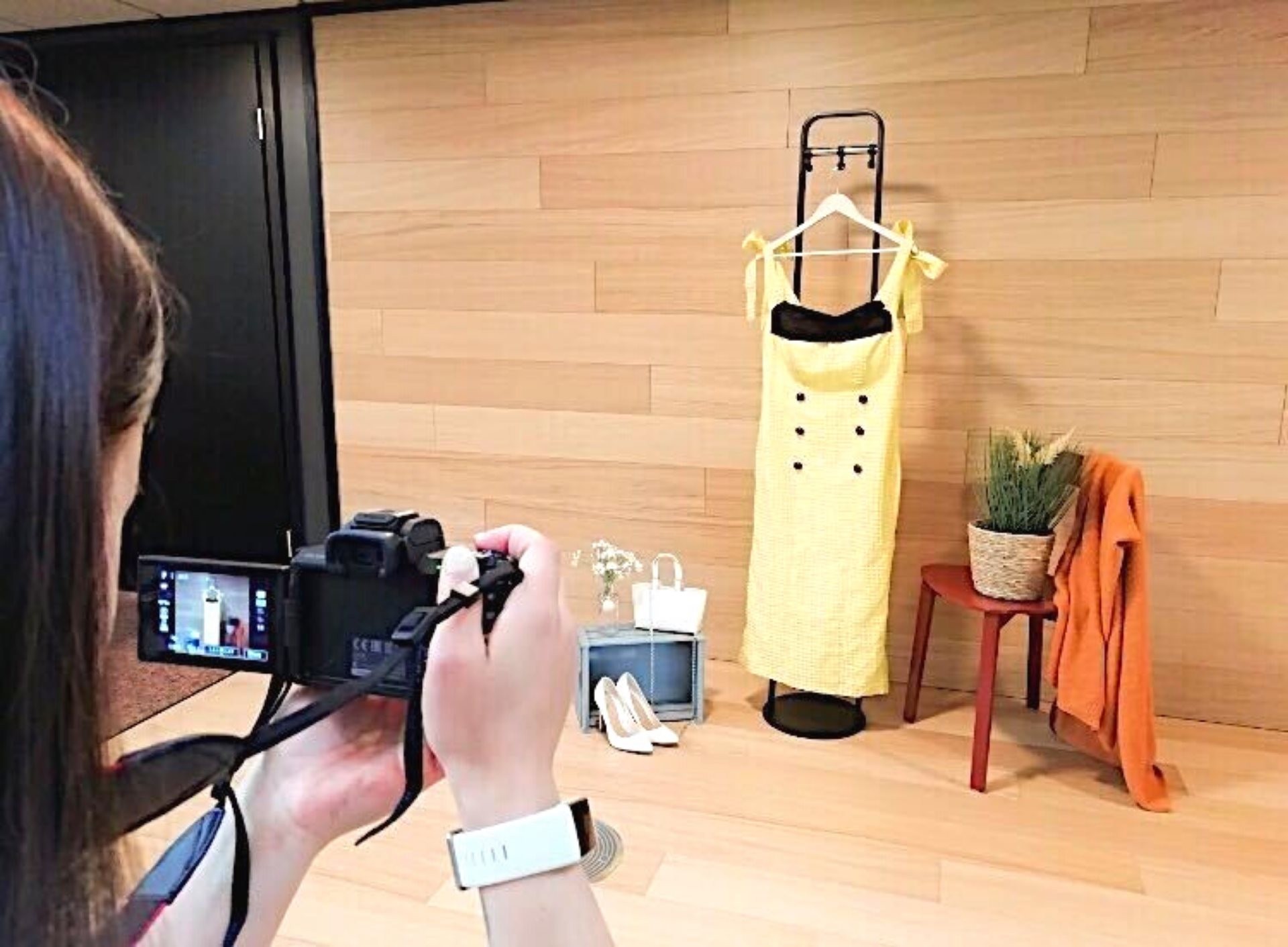 In the first photoshoot, we took pictures of products in a flat lay and on a hanger. For our second photoshoot, we invited two models to wear Oju's clothing. Those photoshoots gave Oju a new perspective on how few changes in the setup can make her pictures look more professional.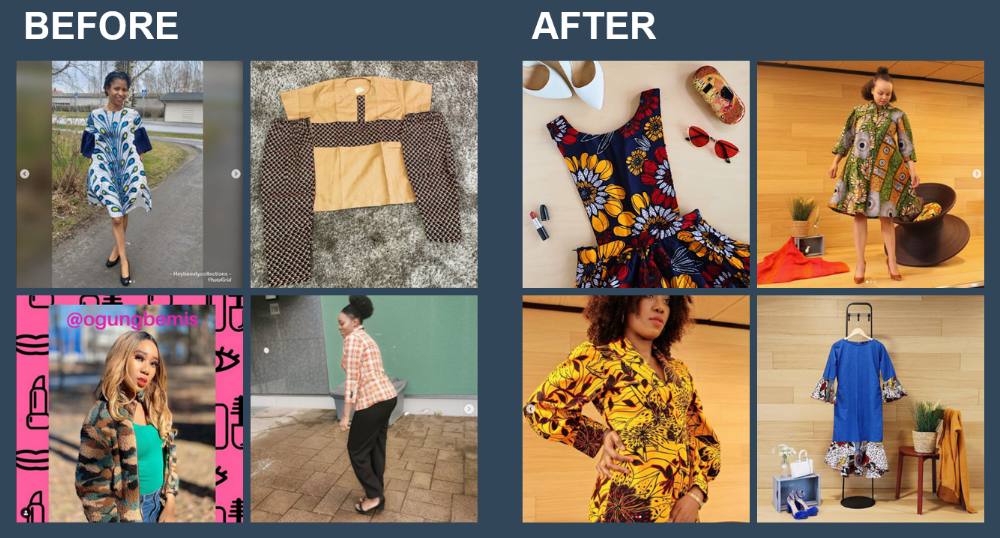 Pitch deck for graduation
At the end of the business program, Pietu and I organized a small graduation pitch deck competition, where our students presented their businesses to judges and had an opportunity to win prizes. The time limit for the presentation was 4 minutes and our students had to introduce their business, briefly talk about the profitability and the progress throughout the program.
For this presentation, Oju and I have dedicated a separate time of consultation. There we defined the content that Oju would include, in order to fit the requirements of the competition. When Oju's slides were ready, there were only small touch-ups in design and structure. To learn more about how to make good presentations, read a webinar summary on presentation design for entrepreneurs.
As the result, Oju got first place at our small graduation competition winning a voucher for business cards, a 30% discount on insurance company services, and free bookkeeping services for two months.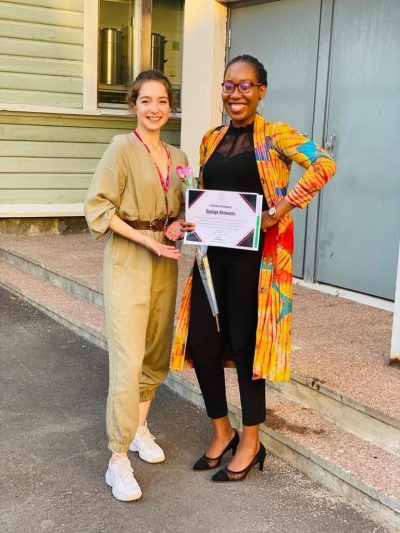 Recently Oju had a professional fashion shoot with another talented student from our business program – Kevin Kallombo and launched her website. Her Instagram had gotten more than 1500 followers and, just like she wanted, the amount of local customers has grown!
You can find can check out and buy her radiant designs here:
Website: heybeautycollectionsfinland.com
Instagram: @heybeautycollections_finland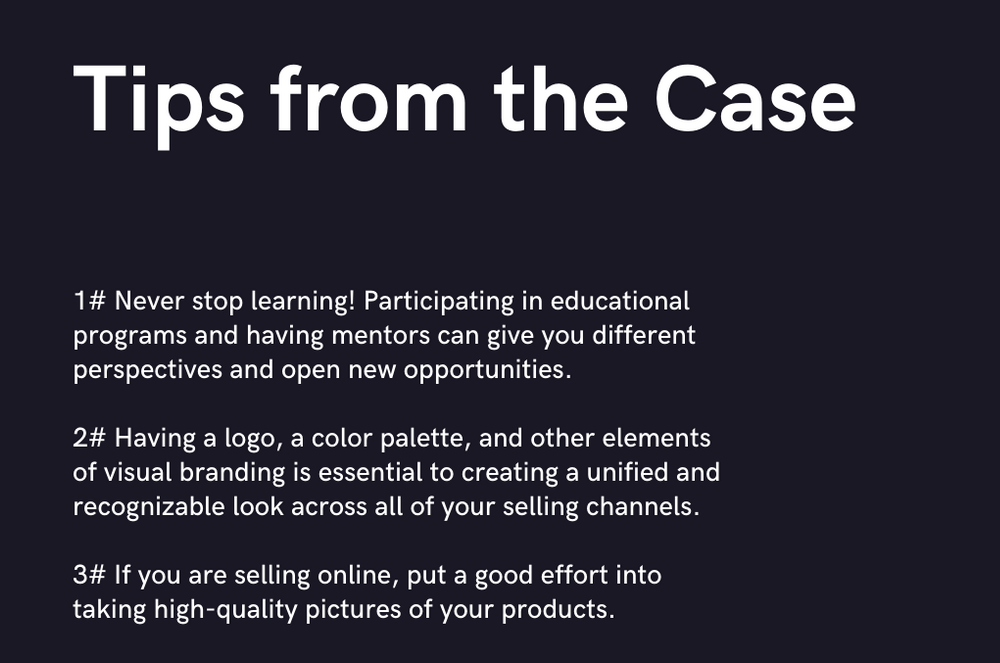 If you need help with starting your business in Finland, contact me at viera.karam@uusyrityskeskus.fi
Kind regards,
Viera
As a business advisor at Oulun Seudun Uusyrityskeskus and BusinessOulu, I help international people of Oulu with early-stage business planning taking them step-by-step from an idea to the registration of the company. My clients often have interesting and complex cases that not only include the development of a business idea, but also questions of residence permits, licenses, taxation, and others. In this article, I will go over the case with one of my clients, while giving tips for those of you interested in starting a business here in Finland.
Disclaimer: All of our consultations are free and confidential. Every case I go over was allowed to publish by the client and has been approved beforehand.