Pegah Sabeti came from Iran in 2017 to live with her husband here in Finland. A graphic designer by education and an artist at heart, Pegah started engaging in many art and design projects soon upon her arrival. She assisted a few local businesses with their branding designs, made earrings for Finnish brand USVA and helped to create theater costumes at Taidekoulu.
In her free time, Pegah would design her own clothes and accessories looking for a unique style that was not available in the Finnish market. A few of her local friends loved the pieces and got interested in purchasing them. The main hit was her backpack upcycled from Persian carpets by Iranian craftsmen. Here is where the idea of having her own online shop with handmade upcycled designs was planted.
Throughout the whole time of our work with her, Pegah's idea grew into a real E-commerce business with a few simple steps:
Pegah got the first samples for testing the idea and worked on her branding.
We worked on her business plan and applied for the Startup grand.
After receiving a positive decision on Startup grand, Pegah registered her own company as a Private Trader (Fin. 'toiminimi') and launched a website for her online shop.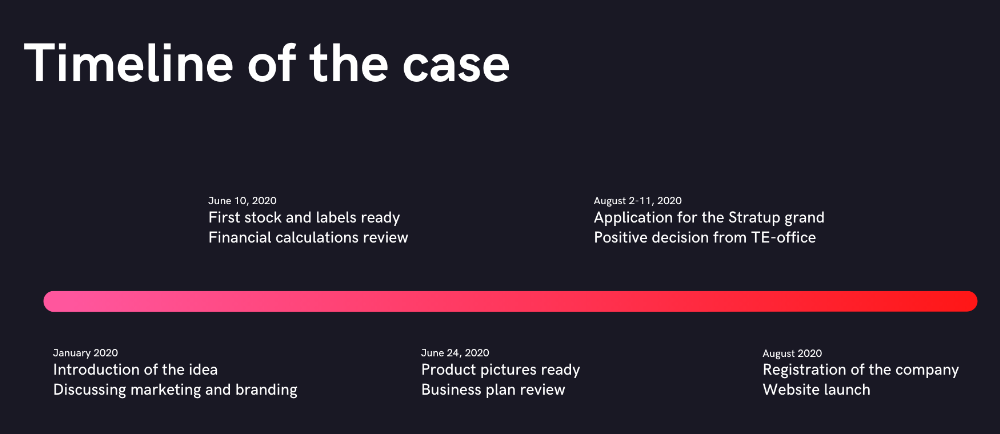 Idea introduction
By the first time I met Pegah, she has already decided on the symbolic name for her brand – 'Unity & Plurality'. She showed me a few products and explained that she would want to import and sell the upcycled backpacks from Iran, as well as her own unique designs that she would create from random pieces purchased from thrift-shops.
We discussed the way Pegah could move forward with the business, her direct and indirect competition, her customer groups, and different channels to approach them. I encouraged Pegah to continue developing the concept around her personal brand as an artist, sustainability, and the unique design of every product.
Since she was registered as a job-seeker at the TE-office I also advised applying for the Startup grand (Fin. 'starttiraha') – financial support that TE-office provides to the entrepreneurs-to-be. For that Pegah needed to make a business plan and financial calculations for the application.
A few months later Pegah came back with a small first stock of backpacks, a wooden label with the logo for her products, and beautiful pictures of her products.

Review of the financial calculations
Then Pegah also needed help with the financial calculations and all of the costs she needed to consider before starting her business. In her spreadsheet, Pegah already included the price of the purchased items, marketing, and bookkeeping services. However, a few things still have to be taken into account when becoming an entrepreneur and starting your own webshop:
The yearly fee for pension insurance (YEL) – legally required insurance for all entrepreneurs in Finland.
Cost of the insurance packages that Pegah would need to minimize risks in her business.
Cost of maintaining her online website (buying a domain, monthly fee for website builder etc.).
Cost of courier services, in order to deliver her products to customers all over the world.
Review of the business plan
Later Pegah returned with the finalized financial calculations, which included all of the previously needed costs, and the first version of her business plan. Even though by then the idea was fully developed, there were still some improvements needed to present Pegah's business better on paper.
We made a few changes that would describe her business in a very detailed manner:
Illustrated her business processes step-by-step.
Provided more details on her customer profiles.
Described Pegah's competition and her competitive advantage.
Adjusted marketing strategy according to her business needs.
Since Pegah already had her products photographed, we also have decided to put pictures right into the description of her products.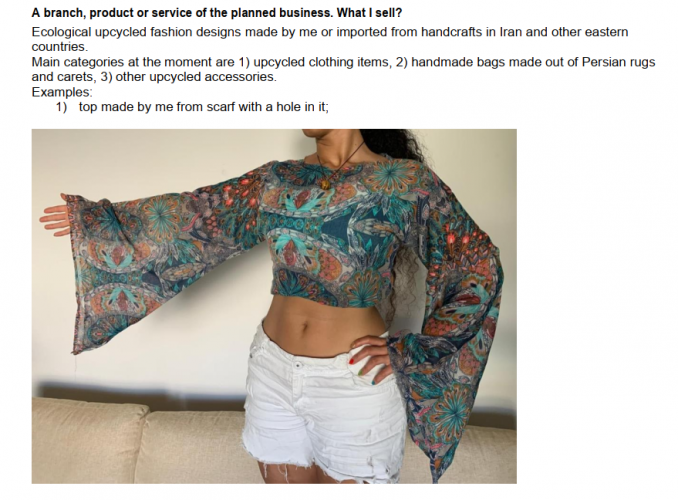 Application for the startup grand
Taking into account all of the changes, Pegah has finalized her business plan and financial calculations. She also prepared her CV, which would show her education, and experience in the field, making her the best person for the given company.
At the beginning of August, Pegah applied for the Startup grand using the online services of TE-office and received her positive decision ten days later.
Launching the website
Right after receiving the positive decision, Pegah has registered her business as a Private Trader (Fin. 'toiminimi') and came to me for a further action plan. At this point, she has already decided on her courier, bookkeeping company, her domain name, and the platform to build her future website. Ahead – only the most essential part of her business – website and social media pages.
Here my main tip to Pegah was to draw out the structure of her website on paper. This straightforward method helps you visualize the abstract idea of a website in your head into a concrete step-by-step project. It also assists you in collecting the content you need before sitting down at the website builder and makes the process of putting together your website fast and stress-free.
We also went through the basics of social media content. Before starting paid marketing campaigns, I suggested preparing her social media profiles: putting the same recognizable logo in all of the pages, making a short but self-explanatory description of the business, leading a link to her website, and posting few pictures of her products for start.
Now, Pegah's webshop is live and you can find and buy her beautiful products on her website, Facebook, and Instagram page!
Website: www.holvi.com/shop/unityplurality/
Instagram: www.instagram.com/unityplurality/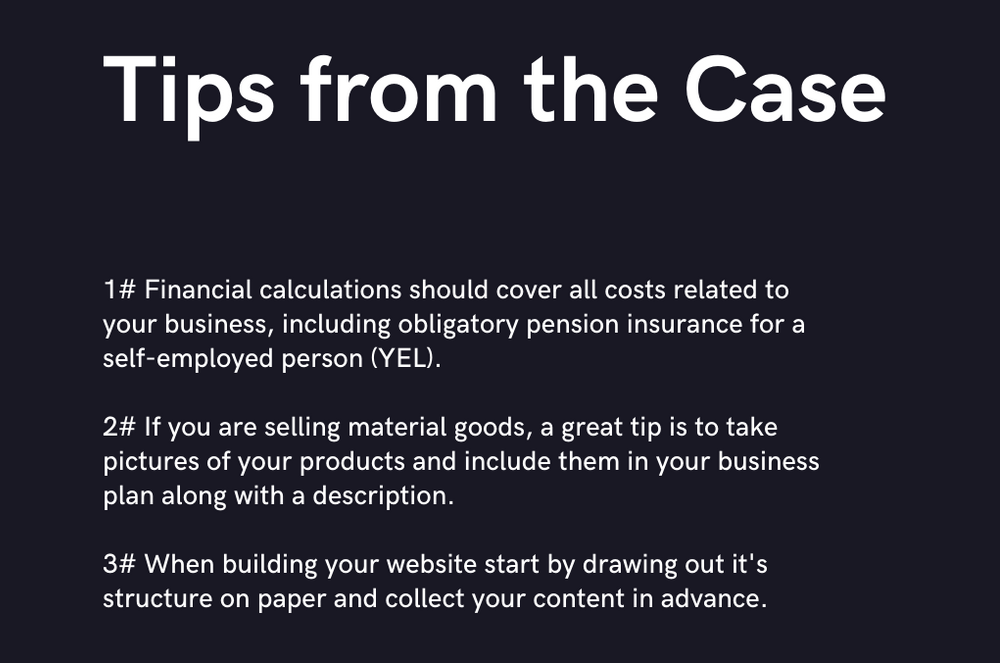 If you need help with starting your business in Finland, contact me at viera.karam@uusyrityskeskus.fi
Kind regards,
Viera
As a business advisor at Oulun Seudun Uusyrityskeskus and BusinessOulu, I help international people of Oulu with early-stage business planning taking them step-by-step from an idea to the registration of the company. My clients often have interesting and complex cases that not only include the development of a business idea, but also questions of residence permits, licenses, taxation, and others. In this article, I will go over the case with one of my clients, while giving tips for those of you interested in starting a business here in Finland.
Disclaimer: All of our consultations are free and confidential. Every case I go over was allowed to publish by the client and has been approved beforehand.